The UZ Leuven rehabilitation centre, located in the middle of the woods and fields of Pellenberg near Leuven, is al leading rehabilitation centre for both in- and outpatients. All post-acute rehabilitation patients, with the exception of paediatric rehabilitation, can be treated at the Pellenberg campus.
Collaboration is essential: people with and without disabilities work alongside one another towards their recovery and strive for self-sustainability, with the ultimate goal of maximum integration in society. Key is attention for the person behind the patient. Collaboration with other residential organisations, convalescent homes, rehabilitation centres and partner hospitals is essential.
Customised rehabilitation for the patient
Patients play an active role: everything is geared towards taking rehabilitation into their own hands as much as possible. The rehabilation centre has special programmes for acquired brain injuries, such as stroke, coma, brain trauma or the locked-in syndrome. Also patients with a spinal cord injury or paraplegia, limb amputations polytraumas of the muscles or bones, peripheral nerve system disorders and burns will receive customised rehabilitation here.
The Pellenberg campus also houses the largest Belgian care centre for back and neck pain and spinal cord disorders, with the comprehensive care programme for non-traumatic disorders of the axial skeleton. For patients with a sports injury and specific sport rehabilitation there is an extensive sports consultation. A firm fixture on the Pellenberg campus is the lab for clinical movement analysis, where patients can have their gait, arm/hand movements and foot pronation assessed and analysed.
The focus of the campus is on highly-specific rehabilitation, but also on innovation and research in the field of rehabilitation. The rehabilitation centre commits to new technology, not only in the rehabilitation centre itself but also in its contacts with software developers and the faculty of engineers at KU Leuven.
Therapy tower
The therapy tower, which opened its doors in 2018, is a symbol for the direction the Pellenberg campus wants to take as a leading Belgian rehabilitation centre. Not only did the hospital choose an architecturally innovative concept, it also choosed new software-driven training programmes, hydrotherapy and innovative ways in which to prepare people again for their daily life or professional life. In the therapy tower, rehab patients can stimulate one another in an open and easy-going way and work on their recovery and re-integration into society, together with their therapists and relatives.
Read more about the therapy tower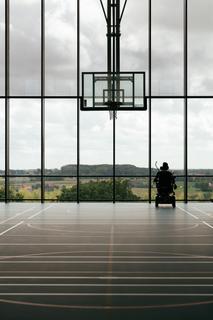 Last edit: 16 March 2021